Custody of Frozen Embryos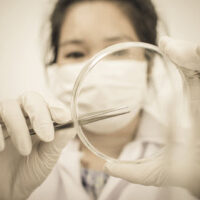 With recent advancements in medicine, assisted reproductive technology is being used more and more frequently. A couple who would not have been able to give birth to children due to medical reasons, such as undergoing cancer treatment, can now create frozen embryos to be stored for later and used to bring a child to term. However, when these couples divorce, they often have different opinions about what happens to those frozen embryos. Frozen embryo custody cases are on the rise, yet only one state has a specific embryo custody law in place.
How Different States Handle Frozen Embryo Issues
Like California, most states do not have any specific laws pertaining to custody of frozen embryos. In many cases, courts side with the part that does not wish to become a parent, respecting the right of an individual to not procreate, according to the American Bar Association Journal. In cases where a couple had a consent agreement, the established requirements outlined in that document are usually followed.
Arizona Stands Alone
Arizona is the only state that has a specific embryo custody law. The law went into effect in 2018, and requires that custody of embryos under dispute are awarded to the party who wishes to develop them to birth. This Parental Right to Embryo law is still the only one of its kind. This legislation was introduced by Republican Senator Nancy Bartore, and the impacts of this law could spur anti-abortion groups to advocate for similar laws in other states. Already, the Thomas More Society, which is an antiabortion group, is intervening in court cases advocating that embryos are children, and that any court decision should be made in their best interest. According to the Washington Post, the anti-abortion group claims that individuals who donates their sperm or egg during in vitro fertilization has "voluntarily exercised his procreational rights" and that the embryo "cannot be legally terminated at the whim of others."
California Has Not Established Case Law on Frozen Embryo Matters
Unlike Arizona, California does not have an established case law regarding custody of frozen embryos. Courts have ruled that consent agreements be upheld during disagreements with ex-spouses when it comes to frozen embryos. In general, this precedent has and continues to be maintained by the courts—previous contracts that the couple had are upheld; the spouse who changes his or her mind after divorce does not get their way. For example, if a married couple had an agreement that all remaining frozen embryos be destroyed in the event of a divorce, the court would likely order them to be destroyed even if one of the spouses had a change of heart and opposed this action.
Contact a San Jose Frozen Embryo Custody Attorney Today
If you are going through divorce or have a disagreement about your frozen embryos with your ex-spouse or partner, you need to talk to an experienced San Jose child custody & visitation attorney. The custody attorneys at Foster Hsu, LLP can help you reach your custody goals, and will represent you in and out of the courtroom to best serve your needs. Call us at 408-841-7200 to schedule a consultation today.
Resources:
washingtonpost.com/national/health-science/who-gets-the-embryos-whoever-wants-to-make-them-into-babies-new-law-says/2018/07/17/8476b840-7e0d-11e8-bb6b-c1cb691f1402_story.html
abajournal.com/magazine/article/arizona_law_frozen_embryos_divorce