Virtual Child Visitations in the COVID-19 Era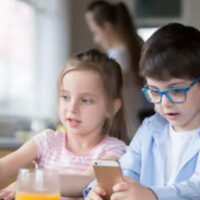 The COVID-19 pandemic has changed many aspects of our lives and society, and visitation rights are no exception. For many, shelter in place orders and social distancing has become just another part of life, meaning staying in contact with your children if you're divorced is important, yet perhaps more difficult now due to the pandemic. Fortunately, virtual visitations have become a means for parents to stay connected with their children. Virtual visitations may include Zoom and other video conferencing applications, instant messaging, and email. What do virtual visitation laws look like, though?
About Virtual Visitations  
The concept of virtual visitations is still relatively new, but due to the pandemic, it has been enjoying increasing popularity. While some states, such as Utah, Illinois, Texas, Wisconsin, and Florida have implemented laws designed to allow courts to approve virtual or online visitation arrangements when hearing custody cases, California does not yet have a provision for virtual visitations. However, parents may request virtual visitations as part of a child custody order or parenting agreement.
Many states are also thinking about or working on passing virtual visitation laws. It's important to note, however, that virtual visitation laws are designed to only supplement in-person visitations and parenting time. They are not meant as a replacement. Under many of the laws that have been proposed or passed, parents are required to encourage and allow virtual visits and permit communication with the children, uncensored.
When deciding on whether to permit virtual visitations as part of a custody arrangement, courts will take into account the best interests of any children involved.
Benefits and Downsides to Virtual Visitations
Like any type of custody arrangement, virtual visitations have benefits and downsides. One of the biggest benefits of a particular arrangement is that virtual visitations allow divorced parents to have more opportunities to foster a strong and healthy relationship with their children. It keeps the lines of communication open and allows parents to remain involved and engaged in the lives of their children, no matter the distance. Some examples of how a parent can connect to their children during a virtual visit include the following:
Reading bedtime stories
Aiding with homework or helping with a special project
Being able to read each other's facial expressions and emotions
Praising and congratulating children for accomplishments and milestones
Watching extracurricular activities, like a sporting match or recital, live
Despite these benefits, there are a few drawbacks to virtual visitations. For starters, some parents may view it as a replacement instead of a supplement for in-person visits. Additionally, some may argue that virtual visitations may not offer the same bonding experience that in-person visits do. There is no opportunity to hug or play in a virtual visit, two big components of being a parent.
If you're a divorced parent with questions about virtual visitations, we would enjoy hearing from you. We can help you find the answers you're looking for. Additionally, during a consultation, our legal team will walk you through the pros and cons of each type of visitation arrangement until we find one that works for you. Call the San Jose family attorneys at Foster Hsu, LLP today at 408-841-7200.