How Establishing Guardianship Can Help With Enrolling Children in School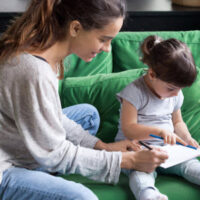 According to California's Department of Education, children between the ages of six and eighteen are required to be enrolled in full-time education. However, in order to attend, schools typically require documentation such as a birth certificate for the child, proof of residency, a student's health records, and proof of legal guardianship. There are exceptions under the federal McKinney-Vento Act and California State Law for homeless students, but there are other situations where a student is not homeless but simply separated from their parents. In those cases it is important that the person the child is living with has documentation of being a caregiver or guardian.
Caregiver's Authorization Affidavit
The simplest way to ensure a student can be enrolled in school is for the caregiver to sign a Caregiver Authorization Affidavit. This form is accepted by California schools as sufficient documentation of residency. However, this authorization can be cancelled by a parent at any time. For this reason, it should not be used if there is any concern that the parent is unfit to care for the child. A caregiver's authorization affidavit does allow family members to get medical care for a child just like a guardian, but if the caregiver is not a family member they are limited to only authorizing medical care that is related to school enrollment.
Types of Guardianship That Help With Enrolling in School
A guardian can be a guardian over person, guardian over an estate, or both. For the purposes of enrolling a student in school, the person only needs to be a guardian of the person. If there is an immediate need to enroll a student in school, a person can file for a temporary guardianship. Temporary guardianship only lasts six months unless a sooner date is listed. 
Proving a Need for Guardianship
ProPublica reported on a school scandal in 2019 where parents were turning over guardianship to relatives or friends during their child's junior or senior year of high school. This allowed the students who came from wealthier families to claim financial independence and to qualify for college financial aid meant for low-income students. This is not an appropriate reason to apply for guardianship. The courts are only supposed to appoint a guardian of the person when a parent cannot meet the needs of the child. Common reasons the court grants guardianship of the person include:
Death of the parents;
Parents are overseas in the military;
Parent are incarcerated; or
Parents are physically ill or mentally incapacitated.
Contact a San Jose Guardianship Attorney Today
The steps leading up to a change in guardianship are complicated and time intensive. It becomes more difficult if the parents do not approve of the guardianship. If you are filing for an emergency temporary guardianship, you must still file all of the general guardianship documents at the same time. A San Jose guardianship lawyer can help you file the required forms, properly notify family members, and present your case to the court so that you do not waste precious time before securing guardianship. Contact the skilled attorneys of Foster Hsu, LLP at 408-841-7200 to schedule a consultation.
Resources:
propublica.org/article/university-of-illinois-financial-aid-fafsa-parents-guardianship-children-students
cde.ca.gov/ci/gs/em/kindergartenfaq.asp#:~:text=Since%20school%20is%20mandatory%20for,in%20kindergarten%20or%20first%20grade.