How Does Debt Work During Divorce?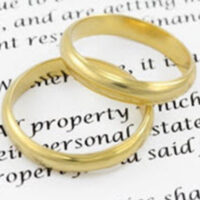 Debt, like other marital assets such as bank accounts, real property, and many personal belongings such as cars and furniture, is divided during divorce. However, not all debt is shared equally. And, some debt is not shared at all, such as debt from before the marriage or other types of non-marital debt. If you are going through divorce, it is up to you to ensure that any debt is divided properly. An experienced San Jose divorce attorney will ensure that you do not end up with debt that you should not be burdened with.
The Type of Debt Matters When it Comes to Division
The average American has over $90,000 of debt, according to Bankrate. The largest types of debt come in the form of home mortgages, student loans, medical debt—a form of debt that nearly a third of working Americans have, according to CNBC.
Student Loan Debt—Any student loans taken out before marriage are not considered marital property, and therefore are not divided during divorce. Student loans that are taken out during the course of the marriage may be divided during divorce, depending on what the loans were used for. For example, a student loan that is used for housing and living expenses may be the property of both spouses, as both benefited from it, versus a student loan used solely for a degree that only benefits one spouse. The income of each spouse is also taken into account when student loan debt is divided during divorce.
Medical Debt—Medical debt is considered part of the marital estate if the bills were accrued during the course of the marriage. Even if the injury or illness was pre-existing before the marriage began, any medical debt acquired during the course of the marriage is marital property.
Home Loans—If the home is marital property and loans were taken out during the marriage, any mortgage debt is considered marital property. However, this debt may not end up being the burden of the spouse who does not end up in the home.
Credit Card Debt, Payday Advances, Business Loans, Auto Loans, and Other Personal Loans—Other forms of debt are marital property if they are taken out during the course of the marriage and both spouses' names are signed onto the loan. This can be true even if one spouse took out the loans without the other's knowledge (such as a large purchase on a shared credit card).
How a Prenuptial or Postnuptial Affects The Burden of Debt
A pre- or postnuptial agreement can change everything when it comes to marital debt. If a couple signs a prenuptial that separates the finances of the two spouses, any business debt, for example, is not privy to division under California community property law.
Our Experienced San Jose Divorce Attorneys Can Help You Get Started Today
Just because a certain debt is considered marital property does not mean that each spouse must pay half. Debt and division of property need to be handled by an experienced San Jose property division attorney, and here at Foster Hsu, LLP, we can help you get started today by calling 408-841-7200 for a consultation.
Resources:
bankrate.com/finance/debt/average-american-debt/#:~:text=According%20to%20Experian's%202019%20Consumer,average%20personal%20debt%20of%20%2490%2C460.
cnbc.com/2020/02/13/one-third-of-american-workers-have-medical-debt-and-most-default.html